Zephyrus
exquisite drone-based harmony on English bagpipes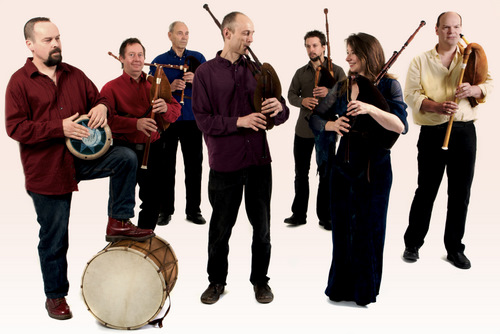 photo: Toby Farrows
High C Bagpipes:
Jon Swayne
G Bagpipes:
Lawrence Morgan-Anstee
Anne-Marie Summers
Mike York
Low C Bagpipes:
David Faulkner
Chris Walshaw
Percussion:
Terry Mann
Zephyrus - the English Bagpipe Orchestra - offer the glorious harmony and sinuous counterpoint of six sweetly toned bagpipes underpinned by driving percussion. Formed by Jon Swayne in 1998 to perform his piece The Halfe Hannikin Variations, Zephyrus brings together some of the best players of modern English bagpipes. The polyphonic style of writing developed by Jon is quite unique and exploits to the full the amazingly rich sonority offered by six pipes. The group have released two CDs of their music, Halfe Hannikin and English Suite.
You can hear some of their music and get a taste of their performances on the video page.
The Halfe Hannikin Variations is a suite of music inspired by the tune of the same name in John Playford's 1651 edition of The English Dancing Master. It comprises Prelude - Theme, Slowish Waltz, Polka, Slow Five, Bourrée, Dark Seven, Wodgy and Finale. The piece is far from a static presentation, the musicians having worked out carefully choreographed moves so as to enhance both the visual and the musical impact.
Zephyrus have since added a new and exciting piece by Jon Swayne to their repertoire. Named 'The English Suite' this work consists of Jig, Song I, Rant, Dirge, Song II and Hornpipe. English dance and song forms are used as the basis for new and beautiful themes.
Zephyrus also have in their repertoire two striking pieces specially written for them by their percussionist, composer Terry Mann, and if required can add variety to an extended programme by including trios, duos and solos from the group members. The members of the band also have considerable experience of teaching pipes and can offer a variety of workshops.
Zephyrus has performed at festivals, arts centres & concerts, in venues ranging from the Royal Scottish Academy of Music & Drama and Sheffield's Crucible Theatre to churches, cathedrals and even a castle.
In 2000 Zephyrus undertook a series of concerts, mostly in churches and one in Liverpool Anglican Cathedral, for which they were successful in obtaining funding support from the Arts Council of England.
The six pipers all use Jon Swayne's Border style bagpipes; a rich-toned instrument developed over the last 20 years. Outwardly following the style of pipes from Northumberland and Southern Scotland, these instruments have three drones and are chromatic over one and a half octaves, allowing supremely expressive drone-based music spanning a wide range of keys and modes. Combining six of them together makes for an unrivalled ensemble sound, perfectly blended, and driven along by the solid and sympathetic percussion lines of Terry Mann.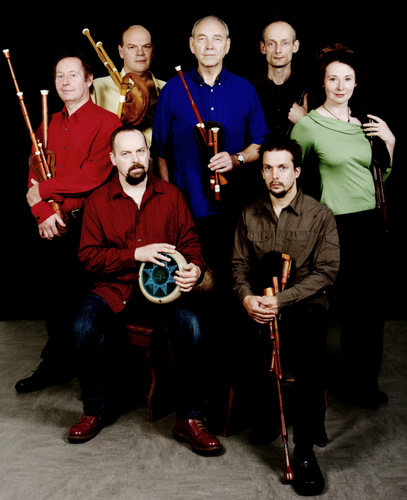 photo: Toby Farrows
Zephyrus gratefully
acknowledges Arts Council
England for their
financial support.


---
Maintained by Chris Walshaw ()